'A terrible tragedy': Healthy two-year-old dies of COVID-19 in Sydney
An otherwise healthy Sydney toddler died from COVID-19 last week, in what paediatricians have described as an incredibly rare and tragic occurrence.
The two-year-old, who health authorities said was "previously well" and did not have underlying health conditions, died at the Children's Hospital at Westmead on Friday due to his infection.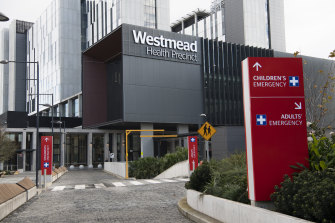 He was admitted to hospital after becoming very sick on Wednesday.
Acting Chief Health Officer Marianne Gale expressed her "heartfelt condolences" to the toddler's family.
"NSW Health asks for the privacy of this child's family to be respected during this most difficult time," she said, describing the death as tragic.
There is no COVID-19 vaccine available for children under the age of five.
In the week ending March 12, there were 38 children aged nine and under with COVID-19 admitted to hospital, including two in intensive care, data from the ministry's latest surveillance report showed.
NSW has reported more than 10,000 cases in this age group every week for the past month, including more than 18,000 in the past seven days. The caseload in children has sent tens of thousands of families into periods of week-long isolation.
An analysis of cases in children during Sydney's Delta wave last year found 1.26 per cent were hospitalised for medical reasons.
Children most likely to be hospitalised were babies aged under six months (admitted to hospital for routine tests as often occurs with viruses in infants), older children aged 12 to 15, and children with a history of health conditions.
Sydney Children's Hospital paediatric infectious diseases physician Philip Britton, who was a co-author of the Delta study, said children were even less likely to be hospitalised with the Omicron variant, which was now the dominant COVID-19 variant in NSW.
"With Omicron it's almost certainly half of [the Delta] rate," he said. "We are absolutely seeing many more infections in children and young people, and there has been a slight increase in the relative proportion of infections in preschoolers, but overall the rate of admission [to hospital] is lower."
Dr Britton described the death of the two-year-old as "nothing short of shocking and a terrible tragedy" following complications he did "not expect to see with any frequency".
Professor Robert Booy, an infectious diseases paediatrician at the University of Sydney, said severe COVID-19 in toddlers and preschoolers was "incredibly rare".
"Two- to four-year-old children get COVID the mildest out of almost anyone," he said. "It is more likely for a child of that age to die from influenza than COVID."
Children at higher risk of severe COVID-19 infection include those with heart and lung conditions, immunosuppression, and neurological conditions, such as cerebral palsy.
Dr Britton said COVID-19 in children could generally be managed like other respiratory infections, by maintaining fluids, rest and giving pain relief when needed.
"The features that would make use more concerned would be if a fever lasted more than five days, if the child was unable to take in fluids at half the amount they normally take it in, if there was persistent vomiting, or if the child was lethargic," he said. "But parents understand their children well, and should seek medical review if they think they are responding worse than during previous respiratory infections."
Vaccination uptake in children aged five to 11, the youngest cohort eligible, has slowed in recent weeks. Just under 49 per cent had received a first dose by Sunday.
"We are urging parents who have not had their children vaccinated against COVID-19 to do so without delay," Dr Gale said.
Professor Booy said the benefit of vaccinating children was primarily to improve the general level of immunity in the population, rather than prevent individual infection.
Both Pfizer and Moderna plan to report data from trials of COVID-19 vaccines in children as young as two in the coming weeks.
Three other deaths from COVID-19 were reported on Monday: two women and a man aged in their 70s, 80s and 90s. All had received two doses of vaccine, but not their booster shot.
Just 62 per cent of people eligible for a third or booster shot of the vaccine have received one.
NSW reported 14,970 new COVID-19 infections on Monday. There were 1163 COVID-positive people in hospital, a slight increase on this time last week.