Office worker, tradie in road rage punch up in inner-city Sydney
Footage captured a wild road rage fight between an office worker and a tradesman on a busy street in Sydney's CBD, that saw one lose an RM Williams boot.
Footage has captured a wild road rage brawl between an office worker and a tradesman on a busy street in Sydney's inner-city.
Video of the confrontation – which occurred at a William St intersection in Woolloomooloo last Thursday afternoon in the middle of traffic – has gone viral on social media, after Brown Cardigan shared it with their 1.1 million Instagram followers.
At one point, the businessman attempts to kick the tradesman's head – but instead loses his shoe, which looks to be a leather boot from RM Williams, by flinging it into the air.
Having dodged the blow, the tradie can be seen getting off the ground, stepping backwards and raising his fists in front of his face.
The pair then parted ways – with the businessman hurrying to retrieve his shoe – but not without continuing to shout abuse at each other as they returned to their respective vehicles, while motorists stuck at the traffic lights watched in horror.
It's unclear from the footage what prompted the dramatic argument. Despite the wild scenes, a NSW Police spokesman confirmed to news.com.au that no police report was made about the incident.
With both men appearing to come off unharmed, social media users have poked fun at the bizarre encounter.
"That shoe hit me all the way here in New Zealand," commented one.
"Oh no, not the RM Williams!" joked another. "That shoe is still in orbit."
"Landed at Rosehill racecourse where it belongs," wrote a third.
Another tagged the beloved footwear and apparel brand in the comments, writing, "@rmwilliams I think you guys need to do more kick testing. Surely a $500 boot wouldn't fling off ya foot."
The fight was captured at an intersection on William St in Woolloomooloo. Picture: Instagram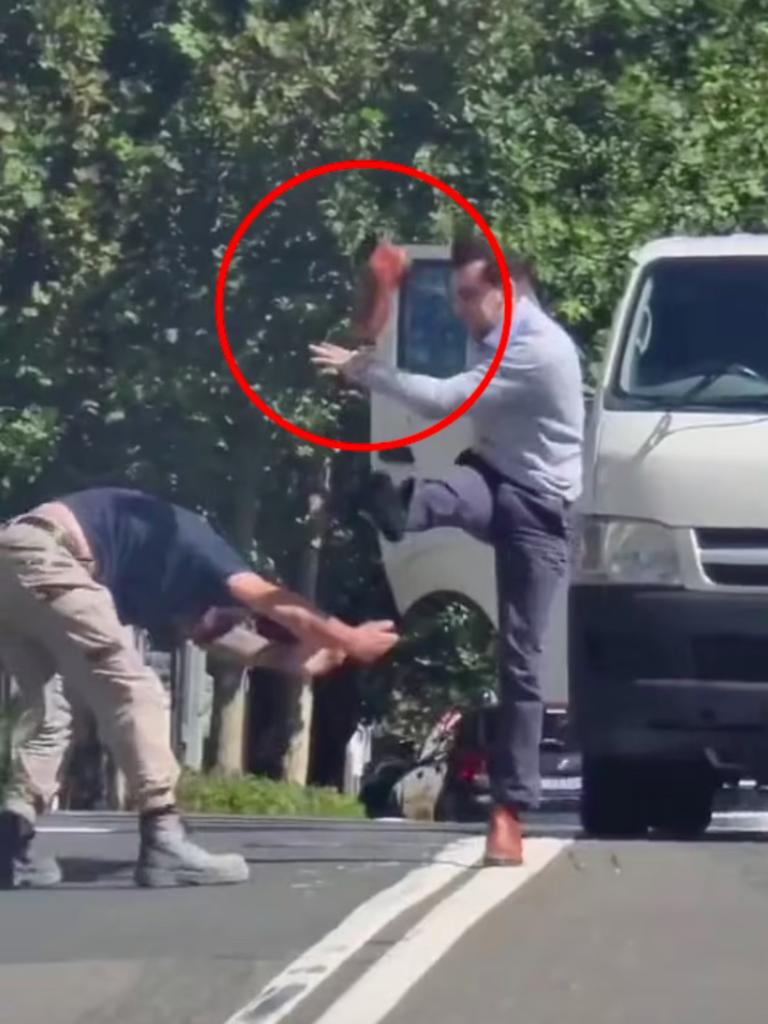 The businessman's boot flew off his foot when he attempted a kick. Picture: Instagram
It's been quite the week for road rage incidents – a 21-year-old man was charged on Tuesday following a violent altercation that unfolded in front of a group of children during school pick-up in Melbourne.
The distressing scene took place in Melton, west of the city, after a shirtless man allegedly took to a car with what appeared to be a metal pole.
The man smashed the car's windscreen, with the incident causing three other cars to collide nose to tail, police said.
The driver of the damaged car then stepped out of the vehicle and allegedly became involved in a physical fight with the shirtless man.
The man was arrested at the scene and charged with multiple offences including reckless conduct endangering life, affray and assault with a weapon.