'Industrial bastardy': David Elliott offers free travel on Sydney trains as union threatens action
RTBU secretary says union will take industrial action if government does not provide free fares 'as a way of saying sorry'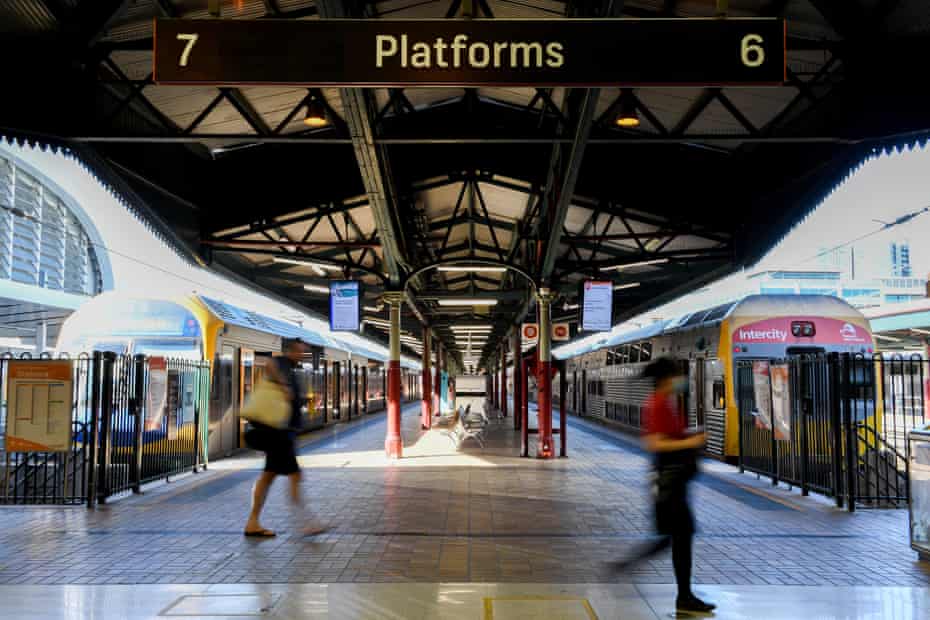 The long-running dispute between the New South Wales rail union and the state government again threatens to shut down Sydney's train network, as the transport minister David Elliott accused workers of "industrial bastardy" for the second time in three weeks over planned industrial action.
On Tuesday the secretary of the Rail, Tram and Bus Union, Alex Claassens, threatened to use industrial action to force the government to offer free fares to commuters, as it continues to ramp up its long-running dispute over pay and conditions.
But Elliott attempted to up the ante, accusing the union of launching an "unprovoked attack" and offering commuters "fare-free Fridays" for a year if the RTBU dropped all industrial action for a year.
The resumption of hostilities between Elliott and the RTBU comes as the minister was unable to say whether a separate industrial action planned for Monday would lead to another shutdown of the network just three weeks after trains in Sydney ground to a dramatic halt.
Tuesday's war of words began with Claassens announcing the union would introduce signifiant new industrial action unless the government offered fare-free Fridays to commuters until the end of June.
According to Claassens, from next Friday, the union will mandate a ban on overtime for signal workers – a step which would have a severe impact on the rail system – as well as a series of other actions, if the government does not provide free fares.
"You can't just shut down a railway with no notice whatsoever, falsely accuse workers of being behind it, and then hope everyone just forgets about it," Claassens said on Tuesday.
"The NSW government said it would look into giving commuters free rail travel as a way of saying sorry for their appalling actions, but since then we've heard nothing.
"Giving commuters free trips as compensation for the huge inconvenience the government caused them is the absolute least people deserve."
Elliott, who came under considerable pressure after the previous shutdown, accused the union of "industrial bastardy", of not acting in "good faith" with the government, and attempting to cause disruption ahead of next year's state election.
"I note the union movement today has said, 'well if you give fare-free Fridays from now until June we won't strike on Friday.' Well I'm going to up the ante," he said.
"I'm saying to the union movement: if you promise not to strike for another year, I'll give fare-free Fridays for a full year.
"We cannot have this city going broke because a few union representatives want to play the games and do the bidding of the Australian Labor party."
The comments mark a significant escalation in an ongoing industrial fight that began when a previous enterprise agreement expired last May. The union has run a series of rolling industrial actions in a bid to force the government to make concessions on its pay and safety demands.
Last month's shutdown prompted a significant scandal within the government after Elliott incorrectly blamed the union for a "strike" and accused them of "terrorist-like activity".
It later emerged it was the government that had ordered the shutdown due to safety concerns, and that Elliott had gone to bed while bureaucrats scrambled to make a call on the network after negotiations fell apart at the 11th hour.
The union has been engaged in ongoing industrial action for months, and is due to begin a separate round of action on Monday 20 March. On Tuesday, Elliott was unable to say whether that action would lead to another round of shutdowns, but conceded it was likely to lead to significant disruptions.
"Unfortunately … we don't know what we don't know at the moment," he said.
"There is a strong possibility this industrial action, over a prolonged period of time, could cause the rail management to restrict services. The advice I've got is there is every possibility we won't be able to run the network."
The dispute between the union and the government has escalated significantly since Elliott became transport minister in December, but the minister dismissed questions about his responsibility for the ongoing disruptions.
"A lot has been said about communication between my office other people over the course of the last few weeks. I can give you an ironclad guarantee that conversations have been had, emails have been exchanged, text messages have been exchanged," he said.
Elliott also said he had potentially acted illegally by attempting to negotiate with the union prior to being sworn in as minister.
"I met with this union before I was even sworn in, probably illegally, I was negotiating before I was even sworn in as the transport minister," he said.
"I gave them their first concession before I was even sworn in as transport minister."
But the minister could not say whether he had met with the union since last month's shutdown, and revealed he would not be in Sydney for the next negotiation meeting with the union on Thursday because he was meeting with homeless veterans in flood-affected Lismore.
After the shutdown, the Sydney Morning Herald reported that Elliott was set to announce half-price peak-hour travel and free fares on weekends to apologise for the chaotic shutdown that left thousands of commuters stranded.
On Tuesday he defended not having made that announcement three weeks later, saying he was "actively considering" options for discounts.
"As recently as this morning I've discussed with the member for Sydney about what way we would ensure we get maximum economic activity in the CBD in relation to fare," he said.
But Claassens earlier called on the government to come through on the commitment.
"Workers are still waiting on offers from the government to resolve basic safety claims that were made nine months ago. It's beyond ridiculous that we're still taking industrial action to force the government to do its job."