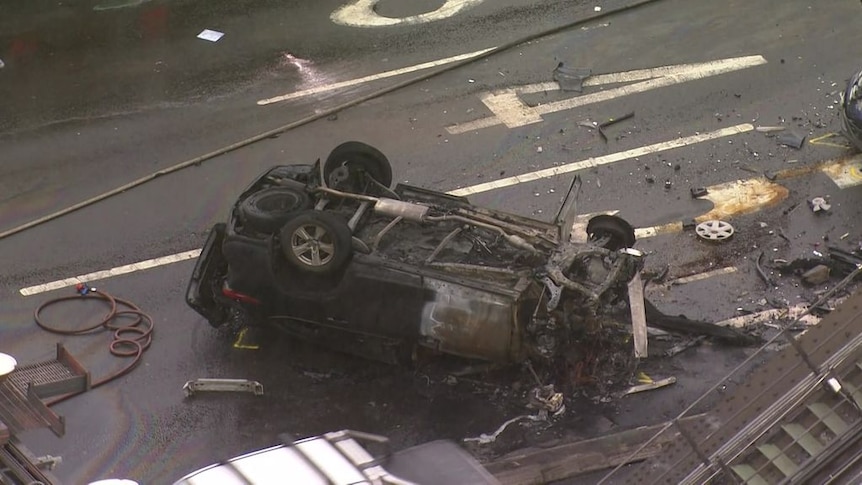 Two injured after car engulfed by fire on Sydney Harbour Bridge
A car has flipped and exploded into flames on the Sydney Harbour Bridge after a multi-vehicle crash this morning.
Key points:
A car has burst into flames on Sydney Harbour Bridge
Three people have been taken to hospital
Motorists have been urged to avoid the bridge if possible with delays likely
Firefighters managed to extinguish the blaze shortly after arriving at the scene.
Two of the drivers – a man and a woman – were treated at the scene by paramedics.
The man was taken to Royal North Shore Hospital and the woman was taken to Royal Prince Alfred Hospital for treatment of non-life-threatening injuries.
The driver of a van was trapped and freed by Fire and Rescue NSW before he was taken to St Vincent's Hospital in a serious but stable condition.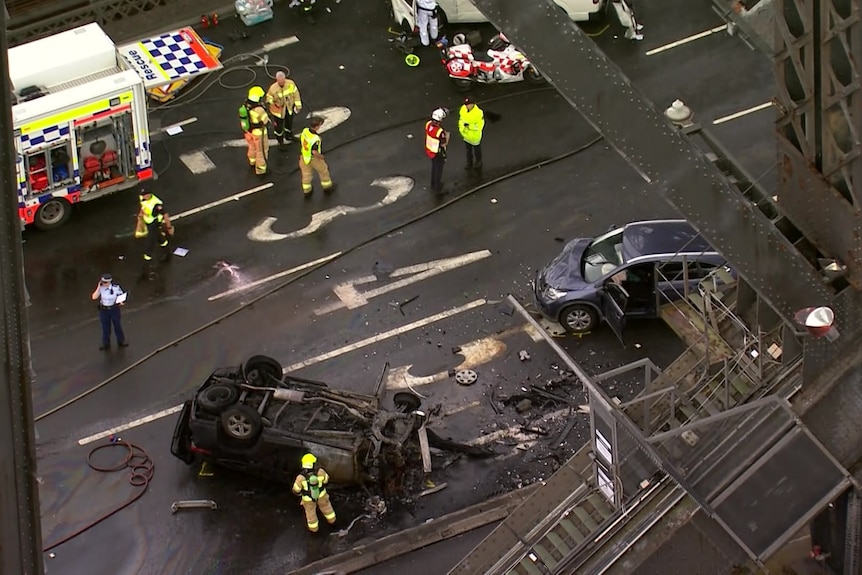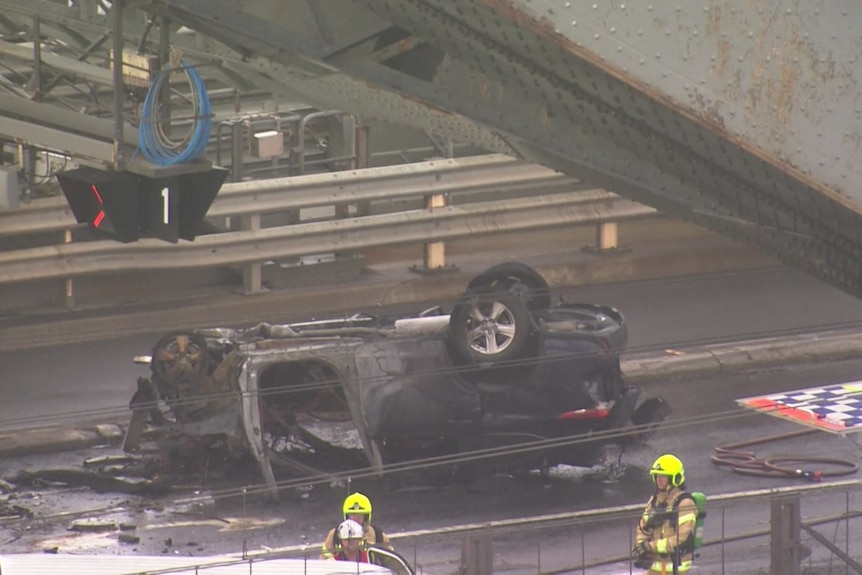 Emergency services were called to the Bradfield Highway at Millers Point about 7:10am after reports three vehicles had crashed, causing one to flip and catch fire.
Three northbound and two southbound lanes have now reopened on the bridge, but traffic remains extremely heavy in the area.
Transport Management Centre executive director Craig Moran warned motorists it could take "a number of hours" to reopen all the lanes on the bridge.
Mr Moran said trains moving across the bridge remained unaffected by the incident, but buses could expect significant disturbances.
"A number of bus services have been diverted to north Sydney to start and begin their journey rather than continuing to travel across the harbour bridge," he said.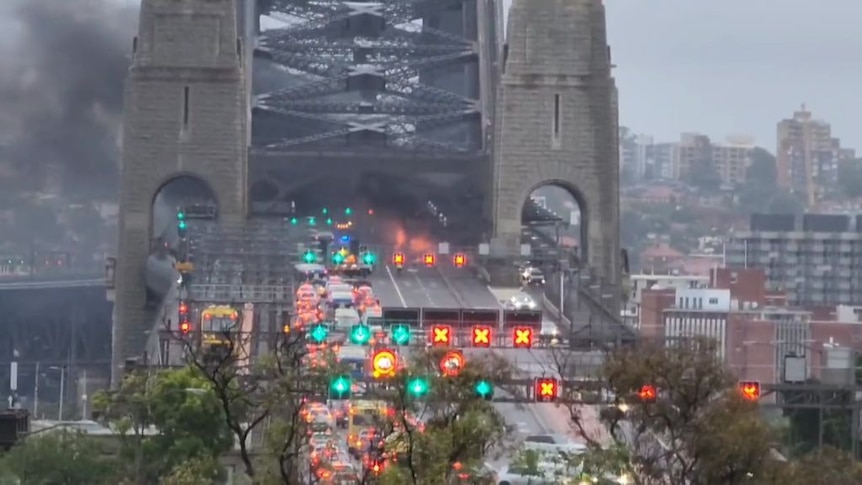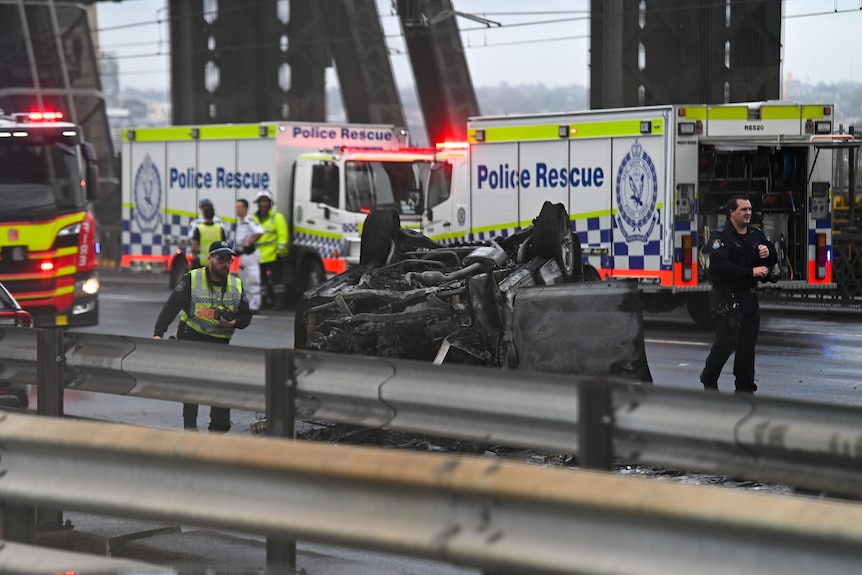 Fire and Rescue NSW Acting Superintendent Mathew Sigmund said the drivers were lucky to escape the fire.
Acting Superintendent Sigmund said the man trapped in the van was dangerously close to the flames before the bridge's Traffic Management Centre managed to tow him to safety.
"The van that had the person trapped inside of it was originally located quite hard up against the vehicle that was on fire and that traffic commander has managed to drag that vehicle away from the car," he said.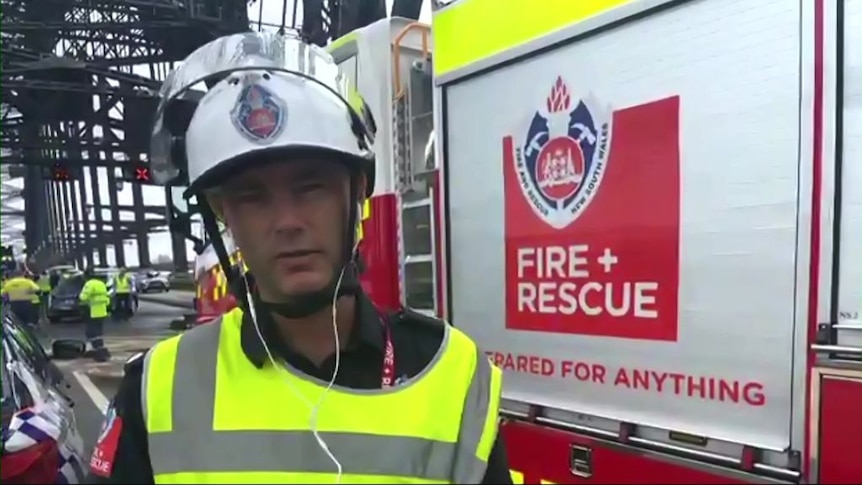 Acting Superintendent Sigmund said the man inside the van was hit head-on in the collision.
"The van was involved at the front end, so the driver was impacted and the front of the vehicle was crushed towards him," he said.
"Police would have probably done a crash push, where we create room between the driver and the crash.
"They probably had to cut a door off the side and then in conjunction with NSW Ambulance, with a medical plan, they would have, as safely but as quickly as possible removed that person from the van."