Residents warned as dangerous weather system travels south towards Sydney
Residents from the NSW south coast up to the Mid North Coast are being warned about what's expected to be a wild upcoming 48 hours.
The NSW State Emergency Service (SES) is urging residents on the state's north coast to evacuate as flood waters reach highs not seen in the area for 68 years.
Torrential rainfall that has drowned southeast Queensland is making its way down and into northern NSW, and is expected to coast towards Sydney in the coming days.
The dangerous weather begun its journey south Tuesday, with a low pressure system developing off the northern coast of NSW expected to strengthen into an east coast low in the next 24-48 hours.
The Bureau of Meteorology has issued severe weather warnings from Newcastle to below Bega. The Northern Rivers region in NSW experienced its wettest day in 139 years yesterday.
The body of an 80-year-old-woman has already been found inside her Lismore home – the first fatality recorded in the state during the ongoing flood disaster.
As of Tuesday night, NSW SES is directing people who live in low lying areas of Lennox Head, along with those in nearby Ballina CBD and surrounding areas to evacuate.
Residents have been warned to expect heavy flooding in the hours ahead as the system travels south.
Northern NSW Local Health District is also evacuating Ballina Hospital due to rising flood waters. The evacuation is taking place on the advice of the local Police Commander and out of an abundance of caution to protect the health and safety of patients and staff.
The hospital has 55 general medical and rehabilitation patients, who are being temporarily relocated to Xavier Catholic College.
Extra staff have been called in and are working alongside NSW Police, NSW Ambulance and the SES to ensure the safe transfer of all patients, whose families have been notified.
"Floodwaters will progressively close roads so do not delay moving," the SES said, urging those to take shelter in the highest place possible if safe to do so.
The evacuation areas include:
– Low lying parts of Ballina CBD
– Low lying areas of South Ballina
– Eastern side of Byron Bay Road, between Byron Street and Greenfield Road
– Properties on lakeside Way
– Sailfish Avenue
– Snapper Drive
– Anchorage Avenue
– Western end of Outrigger Road
– Western end of Caloola Road
– Pintail Lane
– Hurtley Drive, south of Gradwell Drive
An evacuation centre housing residents has also been evacuated due to rising floodwaters. The evacuation centre at Cherry Street Sports Club in Ballina has closed due to high tide concerns with people being moved to Lennox Head Cultural Centre or Lennox Head Sports and Rec Centre.
You can find more information and evacuation centres via the SES website.
Rain for days
The Bureau of Meteorology warned "heavy to torrential rain" was likely to the south of the low, affecting Sydney, Illawarra and the south coast from later on Tuesday.
Heavy rain, thunderstorms, damaging to destructive winds, abnormally high tides and damaging surf are likely to develop over parts of central and southern NSW as the system moves further west.
Along the coast and adjacent ranges from Newcastle down to Bega, heavy rain, storms and damaging winds are expected from Tuesday night into Wednesday and could potentially continue into Thursday.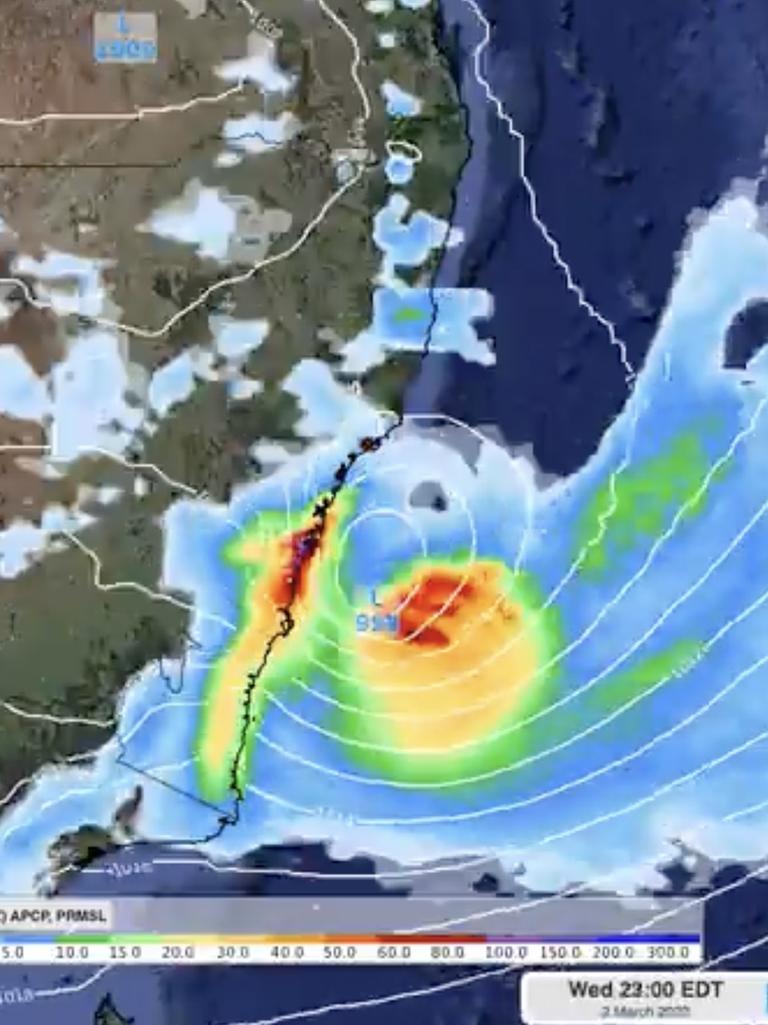 Forecasted rainfall for Wednesday evening. Picture: Weatherzone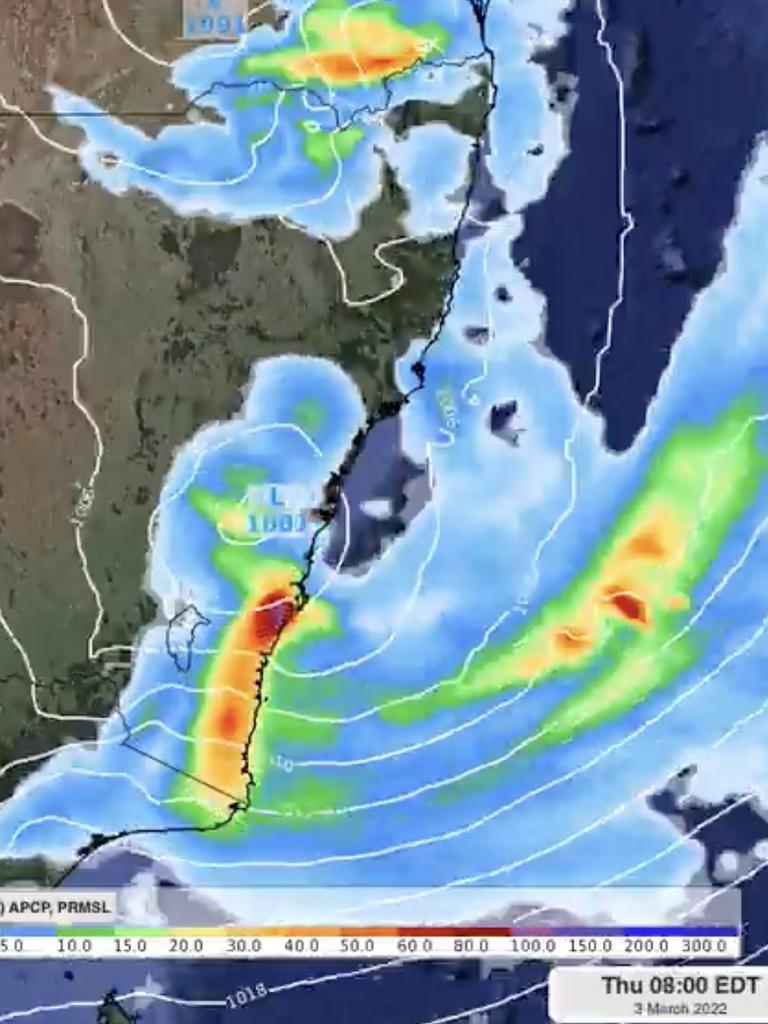 The rain will persist Thursday morning. Picture: Weatherzone
Damaging surf and abnormally high tides could also affect the coastal strip from the south coast up to the lower Mid North Coast from Tuesday night into Wednesday.
Severe weather warnings have been issued for these areas.
NSW residents have been warned that forecasting cannot predict exactly where the east coast low will travel, nor where its severe weather will strike over the next 48 hours.
The forecast track may change, and therefore impact the areas pre-emptively covered by severe weather warnings.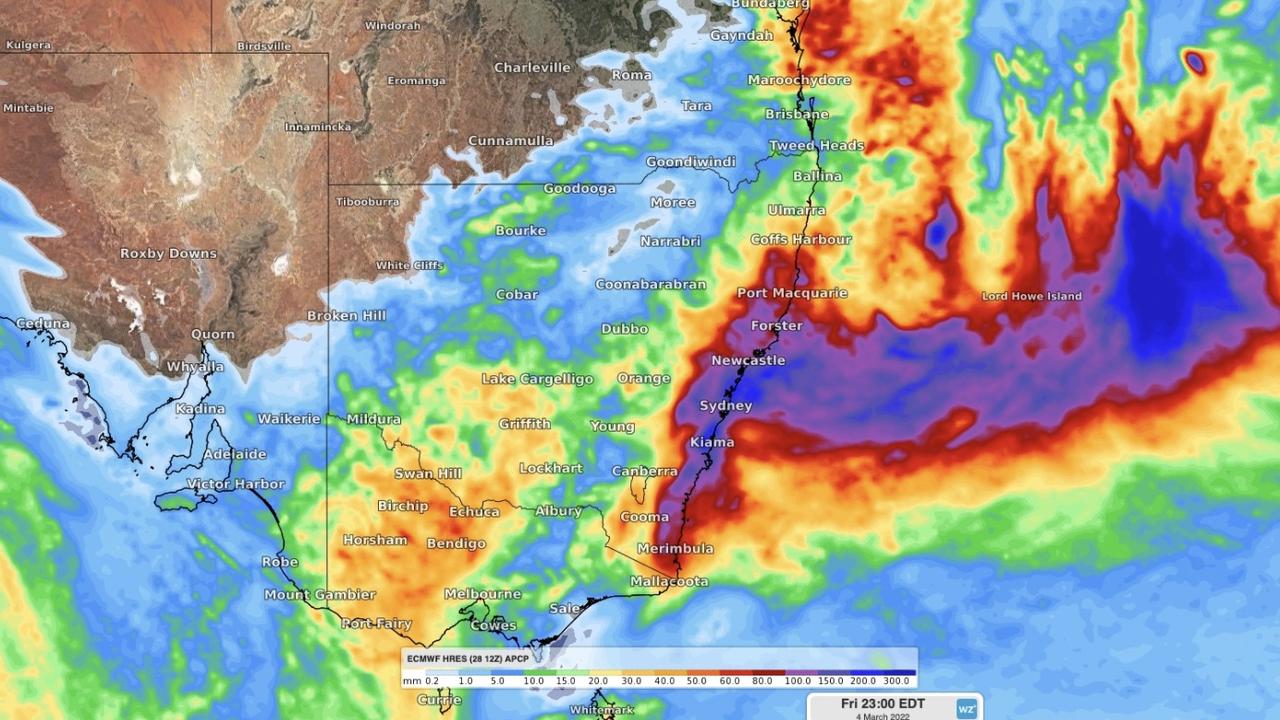 Forecast accumulated rain between Tuesday and Friday, according to the ECMWF-HRES model. Picture: Weatherzone
People in eastern NSW and up to Taree on the Mid North Coast have been urged to keep a close eye on their local weather alerts and warnings for at least the next two to three days.
Floodwaters are still flowing through many rivers and towns in northern NSW and southeast Queensland, with major flood warnings and evacuation orders still in place for multiple areas.
Senior BOM Meteorologist, Dean Narramore has however foreshadowed more flash and riverine flooding for areas further south.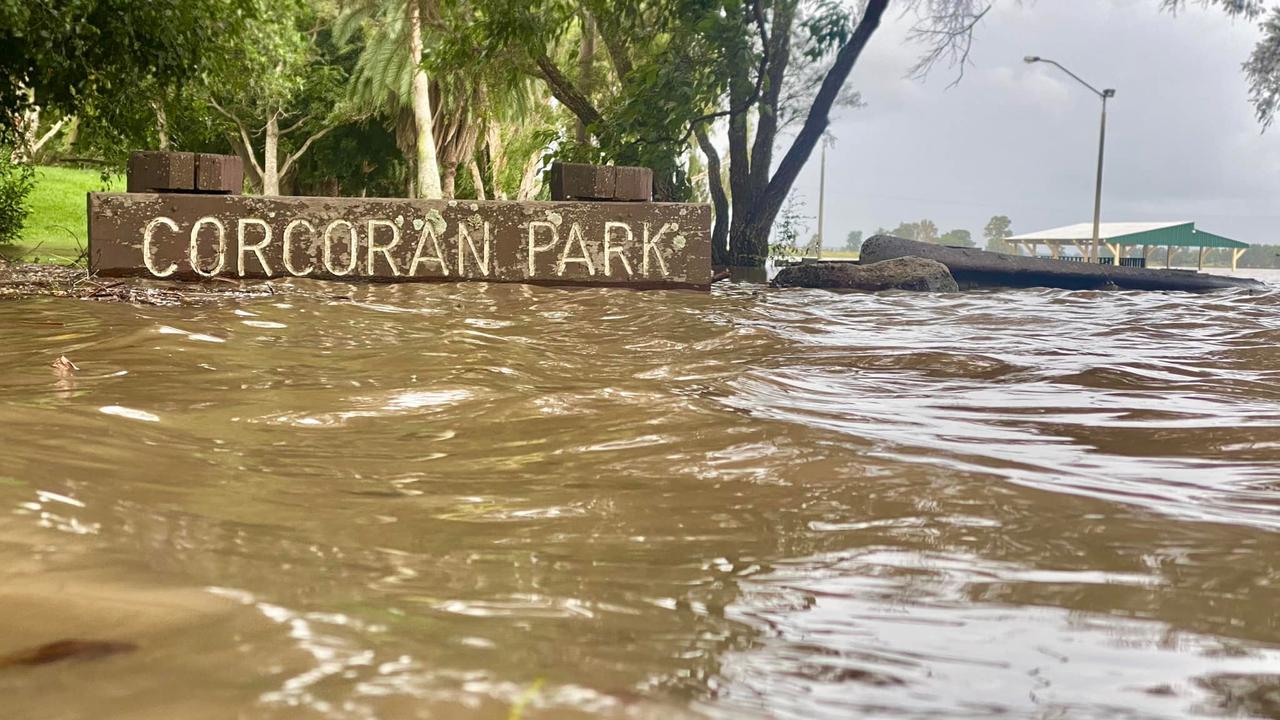 Corcoran Park in Grafton was flooded on Friday. Picture: Anthony Heiser
"We're going to see the rain increase across the Central Coast of NSW, that's going from the Hunter all the way down to the south coast of NSW. That includes Newcastle, the Metropolitan area, the Blue Mountains, all the way down to the south coast," Mr Narramore said.
"We're likely to see this kind of rainfall potentially lead to again flash and riverine flooding for many of our rivers, creeks and catchments."
Minister for Emergency Services, Steph Cook, said NSW has "never seen floods like this" in the northern parts of the state.
"The scenes have been truly distressing," she said, adding that unfortunately "things are not going to get much better up there for a little while".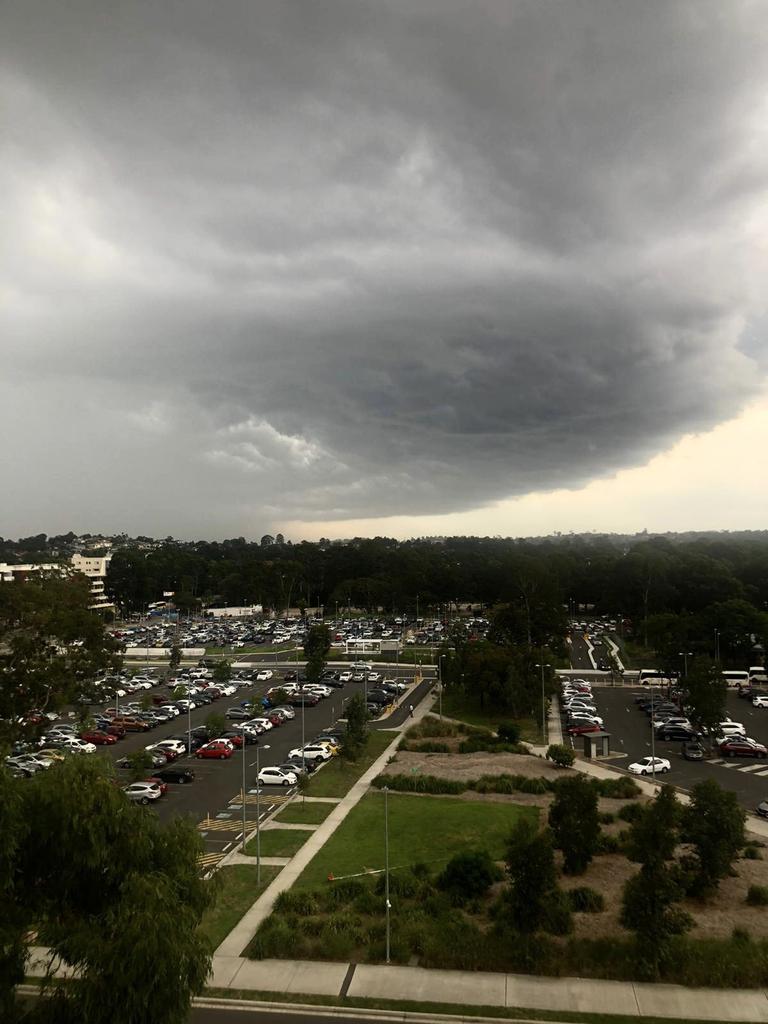 A big storm captured rolling in across Westmead Hospital. Picture: WestSydHealth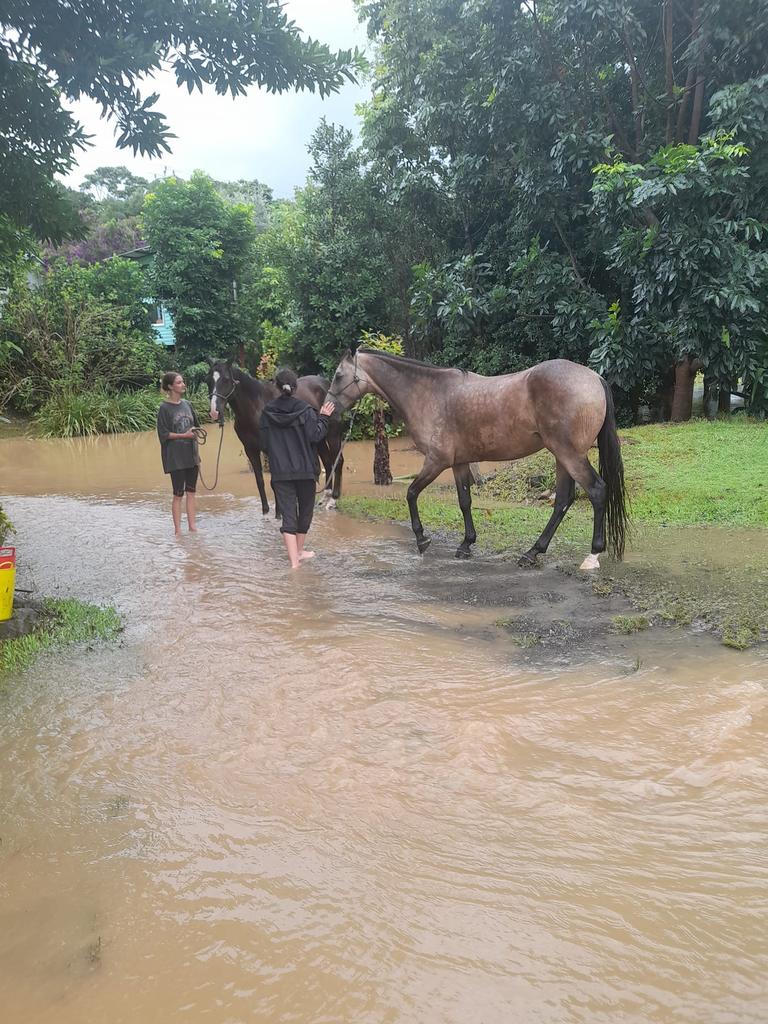 Horses being rescued along the Brunswick River in Mullumbimby. Picture Jacqui Porter
Ms Cook warned that it's likely lives could be lost as the severe weather continues to impact the state.
"While I would love to think and I truly hope that we will not see any deaths from this event, I think that it is unrealistic that a disaster of this magnitude will mean that there are no lives lost," she said.